Standard software for ship supply
Through more than three decades we have developed and implemented innovative and integrated business management solutions for ship chandlers and ship suppliers within the maritime industry.
All our industry solutions are based on standard software from Microsoft and they are continually upgraded the newest software versions from Microsoft - ensuring you always have access to our new innovative functionality and features in a newer software version matching the rest of your IT environment.
All new functionality and integrations are developed in close collaboration with our existing reference customers ensuring our business management solutions are still optimized for the complex maritime business processes: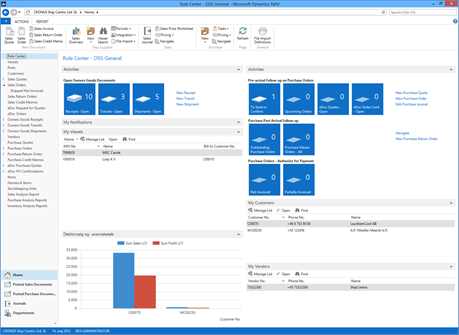 We see our customers consistently upgrade to the latest version of our solutions, Microsoft technology and platforms due to the substantial difference the solutions can make in achieving their business goals.
ShipCentric and our certified local Microsoft partners have implemented the standard software and IT solutions at many different companies in the industry and at your left hand site you can learn more about our innovative business management solutions for some of the most common segments in the maritime industry.
Which solution meets your critical business processes and requirements the best?
Please fell free to contact us below to learn more about our solutions or to be contacted by a local partner in your region
Contact us