The new versions of Dynamic Ship Supplier and Dynamic Ship Chandler comes tailor made with role centres, showing the relevant start screen - for the relevant employee's role in the company!
Not all the employees need to see the same start page, when they open the business management software!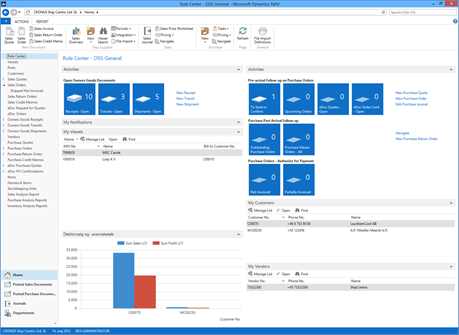 By the use of the newest technology from Microsoft we now provide our software with a relevant role center (start menu) in the system for the different roles within the company, so that every employee only sees what's relevant carrying our his og her business tasks.
If your main role and main business tasks within the company are answering Request For Quotes (RFQ's) or sourcing specific items for vessels - this is what the system will show you at your role center, when you start your Dynamic Ship Supplier solution.
If your main role requires an overview of the vessels your company (and subsidiaries) have delivered equipment and/or spare parts to - this is what you will see opening your role center in the morning.
With the industry specific functionality within the system the role center provides you with the relevant data you need to look up new sales and/or service orders for different vessels - making your next sales much easier!
The Dynamic Ship Supplier and the Dynamic Ship Chandler solution comes with 25 pre-defined and different role centres - and off course you can have your own role center developed.
Click below to se some other examples of Dynamic Ship Supplier Role Centres:
Small Ship Supplier Owner
Ship Chandler
Service Manager
Service Agent
Finance Manager
Finance employee
Contact us if you want to learn more about the different Role Centres
Contact us